THE AIRSTREAM BASECAMP PROJECT
THE AIRSTREAM BASECAMP
To transform a vintage Airstream into a multipurpose basecamp that will serve in the following ways…
1. Outdoor Ability Restoration (OAR)
The trailer will be modified to provide a basecamp for handicap individuals
Primary outdoor adventure will be adaptive kayaking
Modification will include ramp and large toilet/shower
2. Prayer Stream
A mobile prayer room that could be set up at various locations including college campuses to provide prayer ministry.
3. Outdoor Adventure
Blueprint for Men provides many outdoor adventure activities where a basecamp would be helpful.
Features of the camper would be…

Toy hauler capability with ramp access in rear.
Large bathroom as per modification for handicap people
Kitchen would be outside under the awning to provide larger space for group
The interior will provide flexible space for meeting and sleeping
4. Promoting Blueprint for Men
This trailer could be pulled to events where men's ministry could be promoted.
GETTING THE JOB DONE:
The following is a checklist and estimated schedule for the completion of this project…
Purchase of 1972 31′ Sovereign Land Yacht Airstream – completed April 2018 – pictured below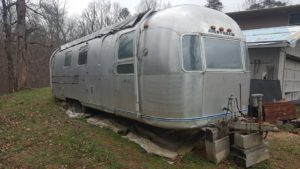 Trailer transported to the job site in Ringgold, GA – completed May 2018 – pictured below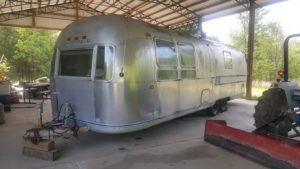 Job Site Preparation – June 2018
Gutting and cleaning the trailer – June 2018
Design plans completed – June 2018
Structural modifications for handicap use – TBD
Electrical wiring roughed in – TBD
Plumbing roughed in – TBD
Spray foam insulation – TBD
Interior sheathing – TBD
Kitchen, bath, dining, and bed furnishings – TBD
Plumbing and lighting trim – TBD
HVAC Systems – TBD
New awning – TBD
New jack and propane tanks – TBD
Exterior finishing – TBD
Estimated cost to complete this project is $25,000
Estimated completion date is November 2018
YOUR INVITATION
If you are interested in helping with this project email us at blueprint4men@gmail.com
We need skilled and unskilled volunteers as well as financial contributions. Thanks in advance!