Dear Pastor,
The Iron Works Men's Summit is coming up on October 8-10 at Cohutta Springs and today we are kicking-off the "One Church, One Man Challenge".  This challenge is simply a call for you as a pastor to sponsor one man to attend this important event.  And in return we will help you build a strong men's ministry at your church. That is our hope and desire!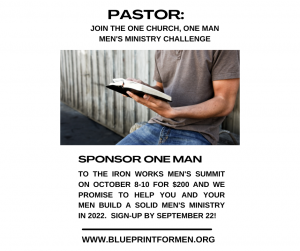 Building a Strong Church
I know you are doing the best you can to strengthen your church and your families during these very difficult times. And to do this you probably have a wide variety of programs and ministries keeping you very busy. But do you have a ministry to men? Should you have a men's ministry? Would it really matter? My answer is an enthusiastic YES! Men's ministry will make a huge difference. And here's why.
Men's Ministry Builds Strong Men
You want to have a strong church. You want to have strong families. But can you accomplish this without an intentional effort to build up your men?  It doesn't seem possible to me. And this is where men's ministry comes into play.
Men's ministry is, on the most basic level, a transformational discipleship journey designed specifically for men through small groups. Through this ministry to men I've seen scores of men dramatically changed, marriages saved, relationships with children restored, and addictions overcome. It really works!
Why Most Men's Ministries Fail
Unfortunately, most men's ministry efforts fail because most men don't fully understand what they are trying to accomplish. Pancake breakfasts, ball games, and campouts does not a men's ministry make. A true ministry to men is something much deeper, much more life-changing, something eternal.
Building a Strong Men's Ministry at Your Church
The "One Church, One Man Challenge" is simply an effort to expand men's ministry throughout the Georgia-Cumberland Conference starting with your church.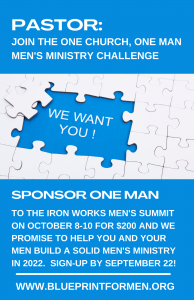 If you want to build a strong men's ministry that builds strong men of God then I would like to invite you to sponsor one man from your church to attend the upcoming Iron Works Men's Summit at Cohutta Springs. Every man that attends this weekend will be equipped to create and implement a solid plan to launch your men's ministry in 2022.  
Support from Blueprint for Men
Men's Ministry Toolbox
Leadership Training an Support
One-on-one Coaching
Free Resources
Accept the Challenge
Please prayerfully consider inviting one or more men to attend this event. Accept the "One Church, One Man Challenge" to take the first step in launching a successful men's ministry at your church.
To find out more about the Iron Works Men's Summit and register your men's ministry leader CLICK HERE.
Thanks in advance for sending one man. At only $200 I believe it will be one of the best investments your church will make this year!
Here's to Building Better Men,
Marty Miller
GCC Men's Ministry Coordinator