You Weren't Made for the Flatland!
Are you tired of the valley of mediocrity. Are you tired of struggling with inconsistencies that keep tripping you up. If your answer is yes, the Morning Summit just might be the answer to building a foundation for success.  The Morning Summit is a quarterly habit-builder designed for collegiate men who desire to build a solid foundation for succeeding in the areas of life that matter most. 
Join us for the Morning Summit
This 12-week program follows a mountain climbing metaphor where you establish a base camp during the first month, begin the climb during the second month, and culminate with the challenging summit push. The culmination of our climb, the twelvth week, is a reflective journey as you trek home and dream of higher mountains yet to be climbed.
The Blueprint for Building Godly Men
This program is based on the "Blueprint for Men", our Lord and Savior Jesus Christ. In the following verse we see the simple framework for the growth and maturation of not only Jesus but every man.  
And Jesus increased in wisdom and in stature and in favor with God and man.  Luke 2:52
In this verse we find the formula for becoming a total man which we refer to as the…
CORE 4
The Core 4 is a reference to our mental, physical, spiritual, and social dimensions.  We address all four of these areas at the beginning of the day, like Jesus did!  If Jesus spent the early morning hours walking, thinking, praying, and meditating it only seems logical that this should be our pattern as well. 
You Need a Rope Team to Climb
The Morning Summit is designed to be experienced in a small group of 4-6 other young men that we call a "Rope Team". To safely climb a dangerous mountain, you need a rope-team, and to succeed at the highest level in life you need a rope-team, a group of close friends that are striving to become the men God designed them to be.  Your rope-team will provide you with brotherhood, encouragement, and accountability essential to reaching the summit of authentic godly manhood.
---
FREE MORNING SUMMIT
Everyone who joins our group will receive the Morning Summit resource for free, compliments of Blueprint for Men. The components of this resource will be provided for you electronically on this webpage using the links below.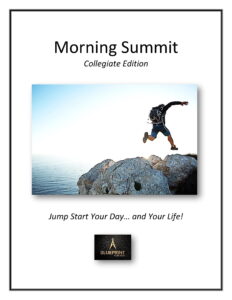 ---
Weekly Meeting Format
The Morning Summit will meet every Wednesday evening from 8:30-9:00 pm. Here's how our schedule will go. 
8:30 pm     Large Group Teaching
8:45           Rope Team Check-in
9:00           End of Life Group Meeting
---
MORNING SUMMIT SCHEDULE
---

---
Week 1
Welcome and Overview
Mental Health
---
Week 2
Physical Health
---
Week 3
Spiritual Health 
---
Week 4
Social Health 
---

---
Week 5
Small Group: Discussion and Check-in
Assignment: Weekly Challenges and Daily Tracking
---
Week 6
Small Group: Discussion and Check-in
Assignment: Weekly Challenges and Daily Tracking
---
Week 7
Small Group: Discussion and Check-in
Assignment: Weekly Challenges and Daily Tracking
---
Week 8 
Small Group: Discussion and Check-in
Assignment: Weekly Challenges and Daily Tracking
---

---
Week 9
Small Group: Discussion and Check-in
Assignment: Weekly Challenges and Daily Tracking
---
Week 10
Small Group: Discussion and Check-in
Assignment: Weekly Challenges and Daily Tracking
---
Week 11
Small Group: Discussion and Check-in
Assignment: Weekly Challenges and Daily Tracking
---
Week 12
Morning Summit Celebration