Welcome to the Every Man a Warrior small group support webpage provided by Blueprint for Men.
Every Man a Warrior is a men's discipleship curriculum that consists of a three-book series that is designed to be experienced with a small group of men. 
Men that engage in an Every Man a Warrior small group should plan on investing 30-minutes every morning developing an intimate walk with God during their Quiet Time. Your time will be devoted to a combination of bible study, meditation, prayer, journaling, and scripture memorization. Your investment of time will connect your heart to God like never before and transform your life.
This webpage is designed to help you in this journey by providing you with links to supplemental materials, tools, videos, etc. You can find these resources below. 
STEP 1. WATCH the three introductory videos below 
STEP 2. ORDER your Every Man a Warrior resources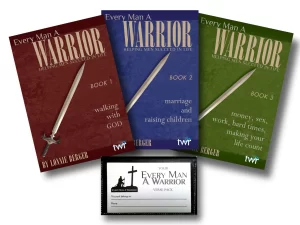 STEP 3. START your journey with a small group of men
We manage all of our small groups through the Church Center app. When you click the links below they take you to our Blueprint for Men groups where you can find a group that fits your needs based on type, location, time, etc. When you find the group that you would like to join contact the leader listed for the group and he will get back with you.  
If you do not find a group or just have trouble with this process feel free to reach out to our small groups coordinator Tom Pyke by text or email and he will get back with you. 
Tom Pyke, Small Groups Coordinator