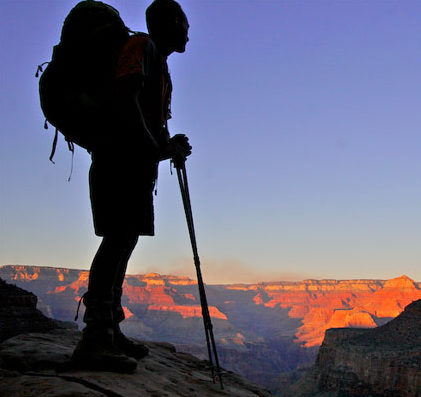 Greetings Ministry Leader,
Long ago John Muir proclaimed… "The mountains are calling, and I must go."  And while I wholeheartedly agree with Muir, I more deeply sense that we are all responding to the "Still Small Voice", the heart of God calling us upward to high places, or in this case downward to low places!
Through the wilderness Moses, Elijah, and Jesus were taught and tested by God so it is only natural that we as ministry leaders should journey into the wilderness to see what he might be wanting to teach us!
The Ministry Leadership Expedition is an immersive wilderness experience for ministry leaders that is designed to stretch the mind, elevate the spirit, strengthen the heart, challenge the body, and rest the soul.  Participants should anticipate the physical challenges of backcountry travel with a group of up to a dozen individuals into a remote wilderness setting in the Grand Canyon where ministry leadership skills will be taught, demonstrated, and applied through outdoor skills and experiences.
---
EXPEDITION OVERVIEW:
The basic details of this expedition are listed below. For complete details download the Expedition Planner.
---
DATE:
---
COST:
$700 total ($200 deposit due Mar 27)
---
INCLUDED:
Round-trip transportation from Phoenix, AZ to the Grand Canyon
Front-country lodging, shared meals, specialized shared equipment
Leadership training, curriculum, and backcountry guiding
---
YOUR RESPONSIBILITY:
Physical conditioning
Camping equipment
Travel to Phoenix, AZ
Pre-trip course preparation
---
APPLICATION:
Mar 27, 2022, deadline
Space is limited to 8.
Complete and submit the online forms and pay your deposit
---
COMPLETE INFORMATION:
---
The following information packet contains the essential details for your participation in the Ministry Leadership Expedition.
If God is calling you to join us simply fill out the application and make your deposit to hold your spot.
If you have any questions please reach out any time. Thanks!
---
PREPARATION TIMELINE:
---
After you are accepted to the expedition follow the preparation timeline below.
---
Now         Register for the Expedition
Now         Start exercising and acquiring gear
Mar 27     Sign-up deadline
Mar 31      Zoom Call #1 from 7-8 pm ET
Apr 12       Zoom Call #2 from 7-8 pm ET
Apr 26      Zoom Call #3 from 7-8 pm ET
May 10      Zoom Call #4 from 7-8 pm ET
May 20     Begin the Adventure
---
EXPEDITION LEADERSHIP:
---
Marty Miller, M.S. Ed
Marty is a veteran educator, outdoor professional, and a leader of men.  He is the founder and president of Blueprint for Men that provides this experience for you as a ministry leader.  Marty is gifted at discovering and sharing spiritual lessons from nature and has skills and certifications ranging from Wilderness First Responder to Leave No Trace Master Educator. Marty and his wife, Gale, are the proud parents of two adult children and four grandchildren. Life is good!
Over the years Doug has filled roles that range from church pastor to camp director. Currently he serves as Outdoor Leadership professor at Southern Adventist University. Doug is an outdoor expert that has skills and certifications including WMI/NOLS Wilderness First Responder, ACA Swift Water Rescue, AMGA Single Pitch Rock Instructor, and AIARE Avalanche Safety. He and his wife Twila have two adult children.  Life is good!
---
EXPEDITION OBJECTIVES:
---
Stretch the Mind
Using outdoor leadership methods "real world" leadership will be taught and demonstrated. And while in this spectacular wilderness setting you will learn the basics about the Grand Canyon ecology and geology that we will photograph and study.
Elevate the Spirit
As we experience the beauty of nature our hearts and thoughts are lifted heavenward.  Through a careful study of the majestic canyons and the delicate flowers we will discover spiritual truths in the "Book of Nature" that will overflow into worship and praise of our Creator God.
Warm the Heart
During our week together our hearts will bond as we eat together, tent together, hike together, and worship together.  We will become almost like family!  These authentic relationships built on the trail and around camp with other ministry leaders will warm the heart with an unmistakable agape love.
Challenge the Body
There's nothing like being physically exhausted after a full day of hiking on a trail or paddling on a river.  You feel like you've reached your limit and can't go on… totally spent.  And yet, it's at these times that you feel more alive than any day back at the office.  It's as if your body is screaming and your soul is smiling!  During your time in the backcountry, you will develop skills that will allow you to traverse this rugged and hostile environment safely.
Rest the Soul
Let's face it… you're tired, maybe even exhausted, down to the bottom of your soul.  Now, imagine a week away from your electronics and schedule in a wilderness setting… and imagine how restful that would be to your soul!  To ensure that you will truly find rest for your soul you will learn skills to keep yourself safe in the rugged environment while at the same time protecting the delicate desert ecosystem through the practice of Leave No Trace backcountry skills.
Extend the Experience
The goal of the Ministry Leadership Expedition is to reboot your life and retool your ministry!  But the real challenge is when you return to the valley where the pressures of life become a reality again.  Transferring knowledge and skills from a wilderness setting to a church setting is not an easy task but will be a major focus of our effort.  And even more importantly to experience "Soul Care" on a regular basis back home.
---
If God is calling you to join us then complete the three steps below to register, complete forms, and sign-up for our group communication app.
This is going to be an unforgetable experience in one of the most iconic landscapes in America.  Don't miss out!
---
STEP 1: REGISTER BY MARCH 27
---
STEP 2: COMPLETE REQUIRED FORMS
---
STEP 3: SIGN-UP FOR OUR GROUP APP
---
If you have any questions or concerns please feel free to text or call me.
Here's to Living THE Adventure! 
Marty Miller
423.322.8491
2022-05-20 12:00
2022-05-20 12:00
America/New_York
Ministry Leadership Expedition
Greetings Ministry Leader, Long ago John Muir proclaimed… "The mountains are calling, and I must go."  And while I wholeheartedly agree with Muir, I more deeply sense that we are all responding to the "Still Small Voice", the heart of God calling us upward to high places, or in this case downward to low places! […]
admin@blueprintformen.org