Dear Pastor,
It's a fact that strong Christian men are essential for building strong families and building strong churches. And research shows that effective men's ministry (Barna research) will do just that. Men involved in men's ministry report higher competence, confidence, and satisfaction in every area of life compared to other men in the church.
Unfortunately, most churches in the GCC do not have an active men's ministry which is why we are launching the "One Church, One Man Challenge". Here's how it works.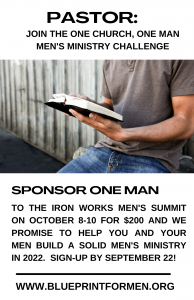 You and all the other pastors in the GCC are being encouraged to sponsor just ONE MAN to attend the upcoming "Iron Works Men's Summit" being held at Cohutta Springs on October 8-10, 2021. During the weekend your leader will be equipped and empowered to take the first steps at building a thriving men's ministry at your church when he gets back home. And as a follow-up we will provide many of the resources and training necessary to ensure success. Below you can discover more details…
To register for the Iron Works Men's Summit
Prayerfully consider this challenge. Sponsor a man for around $200 and launch your men's ministry. I believe this could be one of the most important investments you make this year. I pray that you accept the challenge and send one man… or more!
Thanks in advance for helping us build mighty men of God here in the GCC. Blessings on you, your family, and your ministry!
Here's to Building Better Men,
Marty D. Miller
GCC Men's Ministry Coordinator
Blueprint for Men, Founder & President