Most men are lacking the knowledge and skills necessary to lead and succeed in life.  Manhood education is an attempt to compensate for this tremendous deficit. Through video-based teaching from a variety of sources any man can learn what it takes to become a strong man of God. 
Below are the resources that we have found to very effective at awakening every man to living out their God-given design. Do some research, make a decision what resource, purchase the study guides, and start learning. You can do this study alone but for best results you should consider joining or starting a group. 
---
STEP 1
SELECT YOUR MANHOOD CURRICULA
---
MEN'S FRATERNITY
Men's Fraternity was created and designed by Robert Lewis to help men come together and strengthen each other through weekly sessions that combine biblical teaching and small group interaction. Over the years it has gone through several revisions such as Authentic Manhood (33-the Series) and Better Man, both of which are presented below. Here is a short video that gives a good overview. 
Robert Lewis, Main Speaker
WATCH this short overview of Men's Fraternity and Authentic Manhood
These time-tested resources have been used all over the world to equip men to make their pursuit of noble manhood a lifelong priority. Church leaders and lay members are using the series to energize the men of their church and to connect with men in the community. Many individual men have also used the series in their own personal pursuit of authentic manhood.
---
MEN'S FRATERNITY CLASSIC
The Most Comprehensive Manhood Training Available  
Volume 1 – The Quest for Authentic Manhood (24 sessions)

Volume 2 – Winning at Work and Home (16 sessions)

Volume 3 – The Great Adventure (20 sessions)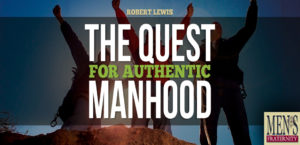 WATCH this short Men's Fraternity video by Robert Lewis (4 min)
Note – Men's Fraternity Classic can be streamed on RightNow Media. 
---
AUTHENTIC MANHOOD
An Updated Men's Fraternity 
Authentic Manhood is an updated version of Men's Fraternity, repackaged in 33-The Series. Through teaching and dramatic story-telling this bible-based content powerfully presents what it means to be an authentic godly man.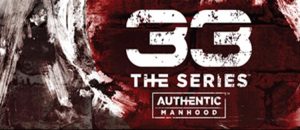 33-The Series 
Volume 1 – A Man and His Design (6 sessions)
Volume 2 – A Man and His Story (6 sessions)
Volume 3 – A Man and His Traps (6 sessions)
Volume 4 – A Man and His Work (6 sessions)
Volume 5 – A Man and His Marriage (6 sessions)
Volume 6 – A Man and His Fatherhood (6 sessions)
WATCH this short promo video for this series
Note: 33-The Series can be streamed on RightNow Media
---
BETTER MAN
A Condensed Version of Men's Fraternity
BetterMan for Churches is a ready-to-go outreach that's free to use and simple to implement. Men need the church like never before. That's where you come in. You can help define what real manhood is – the true and timeless masculinity God designed from the beginning in Genesis.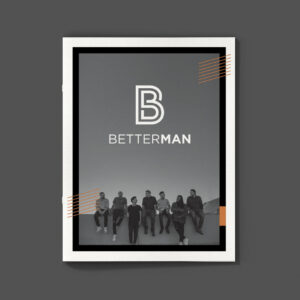 With curriculum created by Robert Lewis and backed by the latest Barna research, BetterMan is an 11-week group study on the essentials of biblical manhood taught through live or video teaching, workbooks, and group discussions that build authentic community. BetterMan for Churches gather for large group teaching sessions and then break out into small groups for discussions. 
Session 1 – Manhood Today
Session 2 – Looking Back
Session 3 – Unpacking
Session 4 – The Dad Factor
Session 5 – Defining Manhood
Session 6 – God & The Good Life
Session 7 – A Real Man Courageously Follows God's Word
Session 8 – A Real Man Loves & Protects God's Women
Session 9 – A Real Man Excels at God's Work
Session 10 – A Real Man Better's God's World
Session 11 – Manhood & the Future
WATCH this short promo video for Better Man.
This video series can be streamed for FREE on the Better Man website. CLICK HERE
---
STEPPING UP
Lifelong Courageous Leadership For Men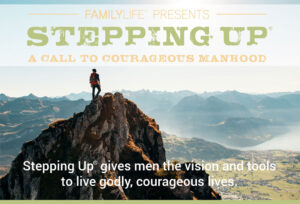 Today, more than ever, the world needs godly men. Men who will step up and courageously lead at home, at church, at work, and in their communities. That's the message of Stepping Up.
Stepping Up is produced by Dennis Rainey, former president of Family Life. This excellent curicullum follows the progression of manhood from boyhood to patriarch. 
Step One – Boyhood
Step Two – Adolescence
Step Three – Manhood
Step Four – Mentor
Step Five – Patriarch
WATCH this short promo video for this series. 
This video series must be purchased from Family Life. CLICK HERE
---
STEP 2
SIGN-UP FOR RIGHTNOW MEDIA
---
RightNow Media is a Christian video streaming service that provides outstanding resources for men, women, youth, and churches. Blueprint for Men provides this resource for free to all men who desire to grow as authentic godly men.

To request access to RightNow Media CLICK HERE.
---
STEP 3
ORDER WORKBOOKS
---
It is essential that as you watch these videos that you use the accompanying workbooks. To order your own workbooks use the links below…
---
STEP 4
JOIN OR LEAD A SMALL GROUP
---
Now that you have purchased your books and other materials you are now ready to join an online group.
To join a virtual group contact our small group coordinator Tom Pyke by email at tom.pyke@blueprintformen.org or CLICK HERE to schedule a Zoom call with Tom.
Many men start thier own groups with guys they know. Most men are waiting for someone like you to ask them to take the first step. Be courageous and lead! 
If you need help starting a group feel free to reach out anytime. We are here to help!