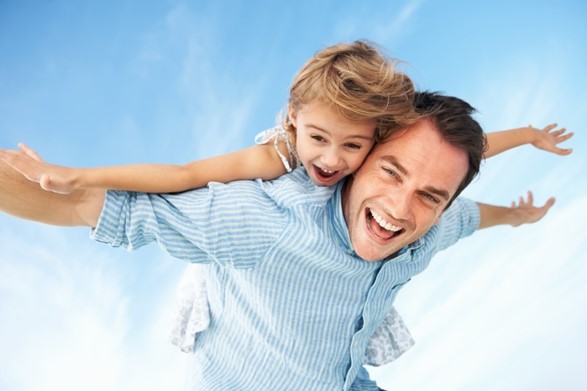 Dear Dad,
Most fathers find that relationships with their sons comes much more naturally than their relationships with their daughters.  But, developing a deep and meaningful relationship with your daughter, while often challenging, is much more important than you may realize, and well worth the effort.
Research reveals that girls who have meaningful relationships with their fathers have higher grades, deeper spiritual commitment, higher self-esteem, and significantly lower chance of engaging in at-risk-behaviors.  Simply stated, strong fathers produce strong daughters.
The "Strong Fathers, Strong Daughters" Campout is designed to strengthen the bonds between you and your daughter(s) through outdoor adventure, nature study, group activities, music and worship.
The cost of the retreat is only $100 per father… daughters are free!  Camp fees, program materials, group equipment, and firewood are all included.  An incredible value!
To attend this retreat study the information in the pages that follow and register using the links below.  Don't miss this opportunity, seize the moment… your daughter will thank you, I promise!
Strengthening Men,
Marty Miller,
Event Director
---
CAMPOUT OVERVIEW:
---
WHO:  Fathers and daughters (ages 6+)
WHERE:  Gee Creek Campground, TN
WHEN:  April 29-May 1, 2022
COST:  $100/father… daughters are free!
PROVIDED: Campsite, group equipment, firewood, souvenirs, and programming
BRING:  Camping equipment and food
DEADLINE: April 19, 2022
REGISTRATION:  Use the links below to register
---
TENTATIVE SCHEDULE:
---
Friday
5:00 pm                Check-in and camp set-up
6:00                      Supper with your daughter(s)
7:00                      Welcome and Group Activity
8:00                      Evening Group Worship
9:00                      Sweet Dreams
---
Saturday
8:00 am                Breakfast with your daughter(s)
9:00                      Morning Group Worship
9:30                      Fathers in Focus
9:30                      Nature Girls
10:30                    Group Nature Hike
12:30 pm             Lunch with your daughter(s)
2:00                      Canoeing the Hiwassee River
6:30                      Supper with your daughter
8:00                      Evening Group Worship
9:00                      Hit the Sack!
---
Sunday
6:00 am                Sunrise Hike up Starr Mountain
7:30                      Morning Clifftop Group Worship
8:00                      Father-Daughter Blessing
9:30                      Brunch with your daughter
10:30                    Pack-up Camp
11:30                    Circle of Power and Closing Prayer
12:00 pm             Head Back Home!
---
Download the INFO PACKET below to discover complete details. Then register and complete the required forms.  Space is limited so don't delay!  
---
---
---
2022-04-29 17:00
2022-04-29 12:00
America/New_York
Strong Fathers, Strong Daughters Campout
Dear Dad, Most fathers find that relationships with their sons comes much more naturally than their relationships with their daughters.  But, developing a deep and meaningful relationship with your daughter, while often challenging, is much more important than you may realize, and well worth the effort. Research reveals that girls who have meaningful relationships with […]
admin@blueprintformen.org