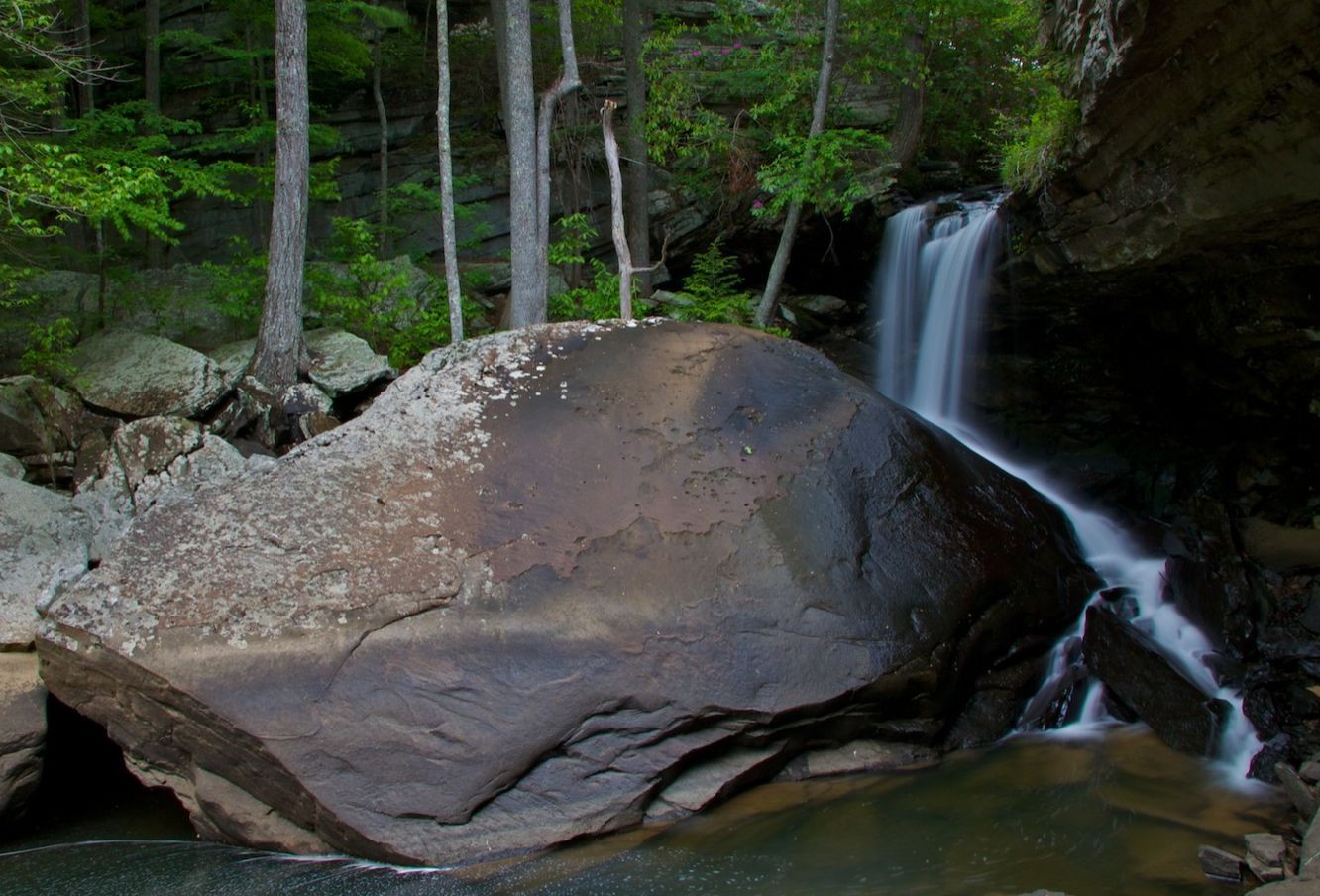 Experience a Sabbath Day Retreat… and Discover What You've Been Missing! 
If you're like most people today you are over-worked, over-scheduled, over-stimulated.  Maybe you even feel like you're, well… over it!  If this is you and you would like to take a day to reboot in nature consider joining me for a family friendly Sabbath Day Retreat at the Laurel-Snow Natural Area located near Dayton, TN.
This is my favorite "Pocket Wilderness" in the Chattanooga area and has been for decades. As a young man I remember hiking and camping in the Richland Creek Canyon with my friends. The waterfalls, cliffs, and massive boulders are imposing and unforgettable.  And the deep swimming holes scattered up the canyon are irresistible to anyone needing body, soul and spirit refreshment!
So what does a Sabbath Day Retreat look like anyway?  Well, while it's really hard to explain all that you might experience on any given walk in the woods I can promise you that you will experience…
Humility… through feeling vulnerable and insignificant
Peace… by removing man-made clutter and noise
Freedom… by removing boundaries of time and space
Joy… by embracing God's pure pleasures
Community… through depending on others
Beauty… through design, colors, textures
Stewardship… by "leaving only footprints"
Insight… through nature object lessons
God Speaking… through the "Still Small Voice"
Holiness… through meditation and prayer
Restoration… through deep Sabbath rest
A Taste of Eternity… through everything that is good!
If that list isn't enough to inspire you to come along I don't know what will!  But seriously, here are the details of what to expect…
Schedule:
9:00 am – Laurel-Snow Wilderness Trail Head
9:30 am – Orientation
10:00 am – Waldensian Worship Service
12:00 pm – Picnic Lunch
1:00 pm – Nature Walk
4:00 pm – Return to Trail Head
What to Bring:
Weather Appropriate Outerwear
Hiking Shoes
Swim Suit and Towel
Sketch Pad/Journal
Packable Music Instrument
Bible
Camera/Phone
First Aid/Survival Kit
Lunch
Register:
The Sabbath Day Retreat is FREE but please REGISTER HERE!
Information/Directions/Maps:
LAUREL-SNOW STATE NATURAL AREA 
2019-06-15 09:00
2019-06-15 17:00
America/New_York
Sabbath Day Retreat
Experience a Sabbath Day Retreat… and Discover What You've Been Missing!  If you're like most people today you are over-worked, over-scheduled, over-stimulated.  Maybe you even feel like you're, well… over it!  If this is you and you would like to take a day to reboot in nature consider joining me for a family friendly Sabbath Day […]
Laurel-Snow Pocket Wilderness
admin@blueprintformen.org