Greetings Winter Wanderer,
You are not like most men. You see, most men seek comfort when the thermometer dips toward zero and the snow starts flying. But that's not you. The sophisticated man hunkers down at the local coffee shop on these blustery days, but not you. No, you are a bit of a primitive man, a man who embraces the biting cold, just to experience the most silent and exquisite of all seasons, winter!
If this is indeed the man you are, or that you want to be, we invite you to join us for a winter backpack trip to the snow covered grassy bald known as Whigg Meadow. At nearly a mile high and with 360-degree unobstructed views, you can see nearly forever during the day, and to the ends of the universe at night! It's a place where you can't help but feel closer to God.  And, while we can't promise you snow, we can promise you an outdoor experience that will be free of heat, bugs, and crowds!
To see a PHOTOBLOG of one of our trips CLICK HERE
If this adventure interests you, sign-up, pack your bags, and let's go!
Here's to Building Better Men,
Marty D. Miller
Blueprint for Men, Founder | President
---
---
TENTATIVE SCHEDULE
Saturday – January 14 
12:00 pm    Meet at the Men's Outpost/Drive to Mountains (directions in planner)
3:00             Arrive at Mud Gap Trailhead
4:00             Setup Camp
5:00             Supper 
6:00             Evening Campfire Worship
7:00             Night Activities 
10:00           Hit the Sack! 
Sunday –  January 15 
8:00 am     Break camp and hike back to trailhead 
10:00         Breakfast in Tellico Plains  
1:00 pm     Arrive back home 
---
WEATHER FORECAST 
To keep track of conditions you can CLICK HERE
---
GEAR LIST 
General Backpacking & Camping Gear 
Large backpack (4,500 + cubic inches)

 

Sleeping bag (rated to a min. of 0° F)

 

TWO Sleeping pads or one very thick one… you will be sleeping on 

snow

!

 

3+ 

season tent 

 

Stove w/fuel

 
Cooking kit

 

Lighter/matches

 

Cooking Utensils

 

2 

water

 bottles 

 

Zip-lock bags for stuff

 
Clothing 
Waterproof/breathable jacket and pants

 

Medium-heavyweight insulating layer

 

Heavy-weight fleece jacket 

 
Insulated parka

 

Quick-dry underwear

 

Quick-dry T-shirt

 

Heavy mitts or gloves

 

Liner gloves

 
2 pair of synthetic liner socks

 

2 pair of wool socks

 

Gaiters 

 

Warm cap

 
Misc. Personal Items 
Small first aid kit

 

Sunglasses 

 

Sunscreen (SPF 30+)

 

Lip balm

 
Headlamp

 

Extra batteries

 

Ear plugs for tent flap wind noise

 

Toilet paper

 

Deodorant

 
---
TRIP PICTURES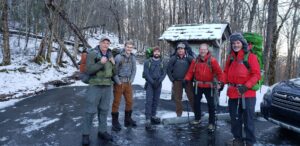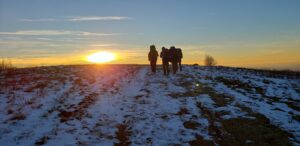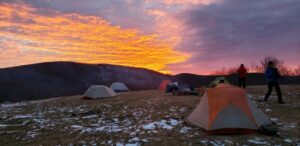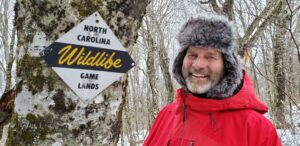 2023-01-14 16:00
2023-01-14 12:00
America/New_York
Fire and Ice Winter Backpacking Trip
Greetings Winter Wanderer, You are not like most men. You see, most men seek comfort when the thermometer dips toward zero and the snow starts flying. But that's not you. The sophisticated man hunkers down at the local coffee shop on these blustery days, but not you. No, you are a bit of a primitive […]
admin@blueprintformen.org