Dear Friends,
Now that the new year is here, and 2020 is fading in the rearview mirror, it's time to give a Blueprint for Men ministry update that will reveal what we have been up to in the past year and the exciting opportunities that God is presenting to us at this time.
---
The Past: God's Blessings
I think that it is an understatement to say that 2020 has been one of the most challenging periods in recent memory. We have experienced a global pandemic, massive wildfires, social and political unrest, and a crazy presidential election. Despite all this, God has blessed this ministry and its reach to increasing numbers of men.
CLICK HERE

to see the 2020 Men's Ministry Report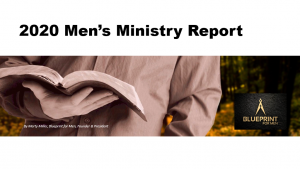 ---
The Future: God's Leading and Provision
As we close out the year, we are excited to announce that we are taking steps to acquire a men's ministry center and hire several new staff.  To do this WE NEED YOUR HELP! And that is why I am coming to you to ask for your financial support not only at the end of the year but as regular monthly supporters.
Our major needs to grow this ministry in 2021 are 
MINISTRY CENTER + MANPOWER + MONEY!

 
---
MINISTRY CENTER: Purchasing an old warehouse that will be transformed into a ministry center that will provide space for… 
---
doing automotive repair, wood working, welding, blacksmithing, etc.
meet with men's groups
ministry office and meeting room
studio for doing podcasts and videos
storage and disaster relief supplies
Our goal is to raise $300,000 to make the purchase and complete improvements
CLICK HERE

to see more about the Men's Outpost Project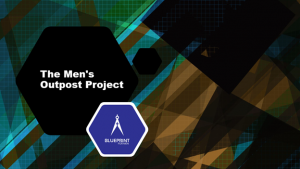 ---
MANPOWER:  Addition of Staff
---
Now that we are in our 7th year, I feel confident that God is leading us to expand the reach of this ministry by building a team of full-time employees, part-time employees, and volunteers.  In short, we are seeking funding of two additional personnel that will greatly improve our organization and communication. These two positions would provide the following benefits:
Chief Operations Officer (Full Time) – provide organizational structure, systems, and processes that will allow us to get more done and multiply our efforts
Chief Communications Officer (Full Time) – provide regular communications that includes podcasts, blogs, emails, social media, videos… plus the creation of original resources
Our goal is to raise $240,000 to cover our full-time and part-time staff
---
MONEY:  Please consider joining our donor support team
---
If you are a regular financial supporter of this ministry, I cannot thank you enough.  We would not be in existence without your generous gifts. But if you have never partnered with us in the past please consider doing so now at this important time. All gifts are tax deductible and can be earmarked for specific projects such as the purchase of the ministry headquarters, the purchase of studio equipment, the funding of staff, or the funding of our Pakistan mission project.
CLICK HERE

to discover more about Building the Future 
---
Investing Eternally… Investing in Blueprint for Men
If you have questions or would like to schedule a meeting feel free to contact me by phone or text at 423-322-8491. Thanks!
Checks can be made out to Blueprint for Men and sent to 10316 Conifer Ridge, Ooltewah, TN 37363.
Secure online donations (monthly or one-time) can be made at www.blueprintformen.org/donate-now.
Thanks so much for your prayers, financial support, and engagement. With your help we can build STRONGER MEN, STRONGER FAMILIES, AND STRONGER CHURCHES IN 2021!
Here's to Building Better Men for Him,
Marty D. Miller, President