You were made for adventure and created to experience life in God's awesome creation… the great outdoors, where struggle, challenge, adventure, and freedom are embraced and enjoyed. Most men find themselves trapped in an artificial world that slowly kills the masculine soul. You were not made to live like this… you were made for action and adventure!
We, at Blueprint for Men, endeavor to provide men like you with outdoor adventures to remote scenic locations all over North America and beyond. Over the years we have led expeditions to Mt. Rainier, the Wind River Range, the Sierra Nevada, the Grand Canyon, the Smoky Mountains, and more.
Our most recent Blueprint for Men outdoor adventure was a mountaineering expedition to Mt. Assiniboine (11,870'), the "Matterhorn of the Rockies", located near Banff, BC, Canada. Our team set its sights on the North Ridge route (II, 5.6) which is considered a classic technical climb.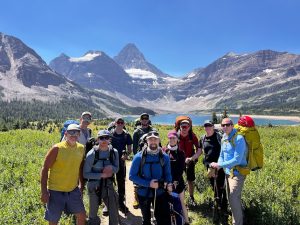 If you need a little armchair adventure during the dog days of summer visit "Into the Mountain", the Mt Assiniboine Alpine Adventure Photoblog.
Here's to Living the Adventure!
Marty Miller
Blueprint for Men
Founder and President