Knowing God is a series of short devotionals based on the premise that men, created in the image of God, can only find their true identity, purpose, and meaning as they know God deeply and intimately.  During our study together we will discover the powerful greatness and perfect goodness of our God.  Knowing God is the starting point for every man that seeks true wisdom for building "the life that is truly life".
As we begin our journey to knowing God more deeply, I want you to understand that I am not a theologian or expert in knowing God.  I'm just a regular guy that has been on a lifelong journey to know God and at times it feels like I'm just getting started. But that should come as no surprise, for even the most studied theologian will humbly acknowledge that God's ways are far beyond us.
"For my thoughts are not your thoughts, neither are your ways my ways, saith the LORD.  For as the heavens are higher than the earth, so are my ways higher than your ways, and my thoughts than your thoughts."  Isaiah 55:8-9
But even though God's thoughts and ways are beyond knowing He promises that "You will seek me and find me when you seek me with all your heart."  Jeremiah 29:13. Seeking God takes time and effort so it is my prayer that you will make this your top priority at the beginning of every day.  The dividends are priceless and eternal!
Here are some tips that will help you establish a routine and get the most out of your quiet time.
Preparing

Time – Every day should start out with time alone with God. Budget a minimum of 30 minutes

Place – Find a quiet spot away from distractions where you are comfortable and equipped

Pray – Always start with a short prayer that invites the Holy Spirit to open your heart and mind

Studying

Scripture – Start by carefully reading and meditating on the scripture passage. Memorize and meditate!

Devotional – Then read the short devotional thought. Time with God is not to be rushed

Group – Every man needs to have a band of brothers to share biblical insights and receive support and accountability 

Applying

Journal – Use a lined journal that you can answer questions and write down your own thoughts

Obedience – Whatever you learn you should immediately apply to your life

Overcoming – Confess your sins, repent, resist the devil and he will flee from you
Men, it's time to begin our journey to know God, in whose image we were created.
Here's to Building Men for Him,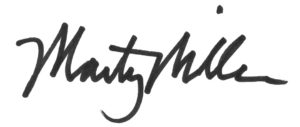 Marty D. Miller
Blueprint for Men, Chief Architect